Translation refers to anything in written form. Los Monitos Language Company has many translators in our network that provide translation from another language into English or from English to another target language! We provide superior quality translations and our customer service is unbeatable! Our process is easy and there are NO SURPRISES!
Contact us by E-mail or by calling (502) 893-0933
Submit a source document (if possible) as an attachment to an email.
We will provide you with a

fixed cost and turnaround time

for the translation.
Upon approval (via Email or PO#), we'll get started!
Our customers use us for large and small projects, including:
Employment handbooks and other human resource or safety policies
Training documents
Legal correspondences and documents
Academic transcripts, credentials, identifications, birth and marriage certificates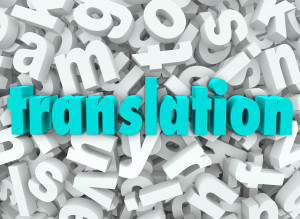 Interpreting refers to having a live person to listen to one language and conveying the same message to another audience by speaking their native language. We have many local interpreters that we work with often that specialize in training, insurance meetings, medical and legal appointments, and even voiceovers. It's easy to set up!
Contact us by E-mail or by calling (502) 893-0933
We will get back to you with questions and details about your request and provide a rate quotation!