Home
»
XL Programs (Taking Language Learning to the EXTREME!)
XL Programs (Taking Language Learning to the EXTREME!)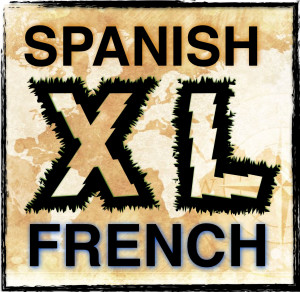 XL (Extreme Language Programs) are innovative and non-traditional language programs that use high-stimulus, high interaction, and integrated learning approaches. They are adventurous, challenging, and fun! They take language learning to the EXTREME. First, every session is taught entirely in target language (Spanish or French.) That's right – even at the beginner (we call it Base Camp) level. Our instructors (think of them as your expert guides) take care to meet students where they are and make sure they're not left behind. Each of our levels (described below) are designed to teach the language in progressive and interchangeable modules where students learn a variety of vocabulary, phrases, grammar, and culture using practical, relevant, and engaging activities to make the learning process more fun, effective, and satisfying. During any given program, students can expect an "excursion session", where they may cook as a group, or meet at an ethnic restaurant, or go shopping, dancing, or another activity that reinforces what they have been learning!
XL – BASE CAMP
Prerequisite: Little or no knowledge of Spanish language.
In this introductory to beginner level program, students will be taught basic grammatical principles in context as well as vocabulary and expressions relevant to the topics reviewed in each class. By the end of the course, students will be able to understand sentences and frequently used expressions related to areas of most immediate relevance, such as basic personal and family information, cooking, shopping, ordering at a restaurant, etc. They will also be able to communicate in simple tasks requiring a simple and direct exchange of information on familiar matters. Students will be able to describe in simple terms aspects of their background and immediate environment and interests. Elements of food, culture and practical usage are emphasized.
XL  – THE ASCENT
Prerequisite: Completion of Base Camp Program Level or Foundations I & II
These program modules are equivalent to an intermediate proficiency level. It is designed for students who attended some Base Camp programs and have a grasp of the basics of the language, some basic vocabulary and expressions, and are comfortable expressing themselves in the immersion program format. Building on the fundamentals taught in Base Camp, this level introduces new grammatical elements and vocabulary, going beyond the usage of the present tense to be able to describe things that happened in the past. By the end of this program level, students will have a working knowledge of basic conversation, having practiced multiple tenses, reflexive verbs and object pronouns in context, and having the ability to build on that knowledge to create dialogues that allow them to function at a higher level of Spanish. As with Base Camp, Elements of food, culture and practical usage are emphasized.
XL – THE SUMMIT
Prerequisite: The Ascent Program Level or Intermediate-Advanced classes.
These programs represent the capstone of our group language programs, and serve to consolidate and leverage students' knowledge of grammar, vocabulary, and conversational skills acquired during previous program levels. New grammatical structures will still be introduced (manipulation of the essential verbs in the present, past and future indicative moods as well as commands and compound tenses), but the emphasis will shift to increasing the ability to speak, listen, and understand mainstream Spanish. Students will be exposed to and work with a variety of media, including web and social media, movies, literature, sports and news reporting. Students reaching the Summit may continue to take part in its continuously evolving curriculum and activity base.